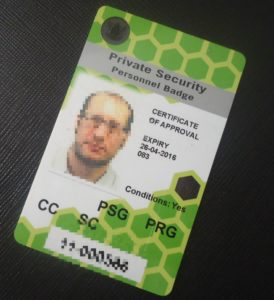 Information for people who are not familiar with the requirements, as set out when the security industry was regulated in 2010, and in relation to The Private Security Personnel Licensing Authority (PSPLA) and The Private Security Personnel and Private Investigators Act 2010.
As of 2010, all contracted security personnel are required to be licenced. Part of the obligations of being licensed security personnel is to display your security license (COA) always while on deployment and while carrying out the duties of security personnel. As of 2013 curtain security classes require regulatory training for the holder of a license (COA) to be valid. All security personnel who have completed training would hold and display a green security license (COA).
A blue coloured security licence (COA) is classed as a temporary licence were by the holder has a 3 month period to undertake regulatory training requirements.
All security and investigation service providers should hold a valid company security licence, only providing services under the classes and conditions listed on and under the company license.
A public register is available online to find out if a person or company is licensed or certified and to get details about their licence or certificate.